Hot Rats
Big differences between the vinyl and CD versions. The CD is a drastic remix with some previously unheard material. The 1995 Ryko CD adds some extra cover/booklet artwork, but is otherwise identical to older discs (yes, including the gold CD). The vinyl mix belatedly re-emerged for a 2009 Classic Records LP reissue and, finally, on the 2012 UMe reissue.

ESSENTIAL VERSIONS FOR COMPLETISTS: Vinyl mix (original or Classic Records LPs; 2012 UMe CD) and CD remix (all other CDs). [completist's guide]

(Pedantic Note: the glitch at 0:14 on "Little Umbrellas" is on all versions of the album--it's a tape anomaly, not a digital problem. Rest easy)

Issues
Original vinyl (blue Bizarre RS6356 in the US, October 10 1969 (repressed 1973, as brown Reprise RS6356 (?)); Reprise RS6356 in Canada; 3-colour label Reprise RSLP 6356 in the UK, February 1970 (repressed in September with mustard label))
German RS6356 vinyl with one-colour label, believed to be from 1970; also with 2-colour label, believed to be very old
Cassette
Original French vinyl (Reprise/Vouge SRV.6108, non-gatefold sleeve, with a black yellow banner on the cover saying "POP MUSIC" :)
French & German vinyl (WEA Reprise 44078, gatefold sleeve)
Spanish vinyl (Reprise HRES 291-35)
Greek vinyl (Reprise RS 0339, first in a single sleeve, later in a gatefold sleeve)
Argentine vinyl: Ratas Calientes (MusicHall 12.927 (mono) and 112.927 (stereo) (fold-out cover))
Mexican vinyl (Reprise/Gamma GX 01-366, no gatefold cover)
Brazilian vinyl (Reprise 84.002, gatefold sleeve, with non-gatefold "MOMENTOS HISTORICOS" re-issue in 1979 (Reprise / WEA Discos Ltda))
Australian vinyl (Reprise RS 6356, no gatefold cover, 1970)
New Zealand vinyl (Reprise RS 6356, 1970)
Israeli vinyl (Reprise RS 6356, no gatefold cover; black & white back cover with a little Hebrew print)
8-track (Warner/Reprise - at least some in yellow cartridges)
Reel-to-reel (Reprise 6356-B, 3 3/4 IPS)
Renumbered UK vinyl (Reprise K 44078, July 1971)
US vinyl repress (Reprise RS6356, 1973)
Double Dynamite - coupled with Chunga's Revenge (Reprise RRD 11707, South Africa, mid-1970s)
Art & Music Collection edition (Reprise REP 59 021, Germany 1976 and 1978 (re-issue))
Ratas Calientes re-issue Reprise 208744, Argentina, 1971 or earlier - Hot Rats on cover, Ratas Calientes on label)
Ratas Calientes re-issue (EMI 208.744, Argentina)
Uruguayan vinyl (Warner Brothers - record pressed in Uruguay, cover imported from the US)
The Old Masters vinyl (Barking Pumpkin BPR 8888-2, November 1986)
Original CD (Ryko RCD10066 in the US (imported into Australia by Festival Records and re-stickered Ryko D40725), Zappa Records CDZAP2 in the UK, September 1987; VACK 5027 in Japan; Spurk UL 98212 in Russia)
"Gold CD" (Ryko RCD10066, USA, June 1988)
IRS 970.702 CD?
Japanese picture CD (VACK 5237 - October 1996?)
Zappa Records cassette (TZAPPA2)
1995 CD (Ryko RCD 10508, May 2 1995; VACK 5102 in Japan, renumbered 5237 in 1998; also in a BMG Record Club version (1086396))
1995 cassette (Ryko RAC 10508, May 2 1995; also in a BMG Record Club version (1086396))
Japanese paper-sleeve CD (Ryko/VACK 1209, September 21 2001 - Bizarre inner sleeve)

Classic Records reissue (LP only; RS 6356-150G & 6356-200G, January 13 2009)
2012 UMe CD (Zappa Records ZR3841 July 31, 2012)
And on the weird side, parts of this album seem to have been issued in Poland as a set of flexi-disc postcards.
Original Vinyl
From Ryan Davenport:
I was leafing through a copy of Penguin's price guide for albums at a bookstore today, and I noticed an odd listing in the Zappa section. They show a variant of Hot Rats with "Zappa Beefheart argument". Date of release was shown as 1969, same as the standard blue label Bizarre release. This listing goes for £60 near mint, 4 or 5 times the value of the standard release. Anybody know what the deal is with this argument? Is it a British thing only? [So far, no one knows! - Ed.]
From Record Collector magazine #118, June 1989 (quoted by Mikael Agardsson):
By the time Hot Rats was released in the UK, Warner/Reprise had switched their distribution from Pye to CBS. First pressings used the old-style Reprise labels with the words "distributed by Pye Records Ltd" blocked out. These are easily identifiable as they feature a large version of the Reprise river-boat logo on a yellow, green and cream "pop series" label. Within a year, the label was changed to a one-colour (mustard yellow) design with a smaller boat logo, although the catalouge number remained the same.
From Mikael Agardsson:
My copy, which I think is the US original, has the numbers 30,926 below the RS 6356 number on the label. It also has a black inner sleeve, with an order form for the Zappéd LP. I've seen american Hot Rats copies with white inner sleeves, which I think are re-issues. The problem is that it doesn't actually say anywhere whether it is a re-issue or not - so I guess that 5-digit number can be a clue, and the inner sleeve should matter. I don't think there are any re-issues with black inner sleeves.

My copy has logos for both Bizarre and Reprise on the cover. I think I've seen copies with white inner sleeves, which I think are re-issues, with the same logos, so I don't think the logos are any different on the re-issues. I've also seen US copies of Uncle Meat with both black (same as for Hot Rats) and white inner sleeves. I also have a US copy of Fillmore East, June 1971, which IS a re-issue, because the inner sleeve says "1974", but there's no clue at all on the label or on the cover.
From Chris "Fufas" Grace:
In the UK, retailer One Stop Records (Associated with the Island record company) imported 500 copies of the US version immediately it was released in the US (Which was about 6 weeks before the UK release). They told us that they had done a deal with the then fledgling WEA Records to test market it. We did sell all of them - we had two left when the UK version was released.

My copy is one of these (I worked for One Stop Records at the time). The inner sleeve, despite what others have said, is a Bizarre Records buff/purply-brown sleeve with the famous line "Just what the world needs - another record company."
Argentine Vinyl: Ratas Calientes
From Tom:
This record is an Argentinian release of the album Hot Rats. It is on Reprise records and is #MH-12.927 [the MH is for MusicHall, a local record company - Ed.] and is a mono copy. The songs are - on Lado 1:

Duraznos de Gala (Peaches en Regalia)
Willie el Rufian (Willie the Pimp)
Hijo del Sr. Green Jeans (Son of Mr Green Jeans)

- and on Lado 2:

Pequenos Paraguas (Little Umbrellas)
Variaciones del Gumbo (The Gumbo Variations)
Debe Ser un Camello (It Must Be a Camel)
From Mikael Agardsson:
This was issued both in mono and stereo. I have a promo mono copy. The cover has a Music Hall logo in the upper-right corner and a Reprise logo in the lower-right. There's a sticker on the cover that says: "Disco de demostraction. Prohibida su venta."
Mexican Vinyl
From edmarimba4:
Great package! Original Mexican pressing. Different cover! This cover features the "ultra-violet in infra-red" photograph, just like the US version, but there is a banner across the top of the cover that says PROGRESSIVE ROCK FRANK ZAPPA HOT RATS. This is not a gatefold cover, like the US version. The back cover features some of the photos from the inside gatefold of the US pressing, including Captain Beefheart with the vacuum cleaner. I wish I had a scanner so you could see this package. Songs are listed as:

Duraznos en Regalia (Peaches en Regalia)
Willie el Vividor (Willie the Pimp)
El Hijo del Señor Green Genes (Son of Mr Green Genes)
Los Pequesos Paraguas (Little Umbrellas)
Las Grandes Variaciones (The Jumbo [!!! - Ed.] Variations) [Misspelled on the cover, but at least the label got it right - Mikael Agardsson]
Debe Ser un Camello (It Must Be a Camel)

Liner notes are in Spanish: "Frank Zappa es el nombre de uno de los mas grandes talentos con que cuenta en la actualidad la musica contemporanea. Arreglista, compositor, musico, lider de The Mothers of Invention, ingeniero de sonido, etc, se ha sabido mantener a la vanguardia de la musica pop." [if that's missing a tilde or something, e-mail me about it - Ed.] (I couldn't have said it better myself!) The label is the classic pink, green and yellow Reprise label with the steamboat on it.
From Pete Adler:
The cover shows the Gamma label number as GX 01-366. This number is also on the label, but the label is a Reprise label, with only the spanish language mention of Gamma at the bottom of the label: "Fabricado en Mexico por Gamma, S.A. con licencia Warner Bros. Records. Inc.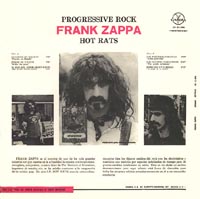 From Mikael Agardsson:
As we know, this issue has a slightly different front cover, but the back cover is completely different from other versions. The back cover pictures can also be found on the fold-out cover versions, but here they are black and white (the middle picture is black and white on other issues too, except the Captain Beefheart insert picture, which is in colour there), and the picture on the right is also cropped and reversed!
Brazilian Vinyl
EDUMILK: Brazilian LP released in 1979 by WEA Discos Ltda. It has the label "MOMENTOS HISTORICOS" [printed in white on the left side of the front cover] ... It's not the gatefold version also released in Brazil without the "MOMENTOS HISTORICOS" label.
MIKAEL AGARDSSON: According to Edumilk this was a WEA release - my copy has a reprise label; but it could still be a WEA pressing after all. At least, they must have distributed it. The back cover says "Sab licenca de WEA discos ltda."
Australian & New Zealand Vinyl
From Collecting Frank Zappa in Australia - Part 1: The Early Years, an article by Stuart Penny in it - The Australian Record Collectors Magazine, Issue #14 June-July-August 1995 (provided by Henry Griggs, Sydney, Australia):
With a laminated single sleeve, Zappa's watershed second solo album cleverly used what was, on the regular release, the inside right gatefold section as its back cover. Although this reduction seriously altered the symmetry of the entire sleeve, it did, however, mean that the legendary black and white Zappéd photo ... of Frank was there on the back for all to see.

In New Zealand, meanwhile, cover flaps were still very much in vogue and early pressings of their non-gatefold Hot Rats (Reprise RS 6356) not only came equipped as such, but the heavily-laminated back cover was also printed in good old black and white.
Israeli Vinyl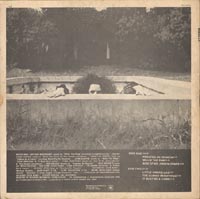 From Mikael Agardsson:
What's different about this issue is the back cover, which has the front-cover picture in black and white. It also says "Manufactured and distributed by CBS RECORDS LTD. P.O. Box 681, Tel-Aviv." I guess the label colour is pretty unusual too [a cross between yellow, green and grey, otherwise a regular steamboat label - Ed.].
Greek Vinyl
From Hasi:
Single Sleeve (no fold-out). Label has some Greek print and "Made in Greece by EMI". No year of release mentioned. On the bottom of the back cover is the black bar with credits and track-list which is on the lower right side of the reglar US gatefold issue.
Renumbered UK Vinyl
From Record Collector magazine #118, June 1989 (quoted by Mikael Agardsson):
In 1971 a third variation occurred when Kinney Corporation took over the entire Warner Brothers organisation and all UK albums (and singles) were renumbered with a "K" prefix [The first two variations were the original UK version, RSLP 6356, with two different labels - Ed.]. Stocks of old covers were used up by adding "K" number stickers to "RSLP" sleeves - thus creating a possible fourth variation! By the time of the first label change, Warner/Reprise had established their own UK distribution and the late 1970 pressings no longer had "distributed by CBS Records" on the back cover. The front cover logos were also changed at this point: the Warner Bros./Seven Arts "W7" symbol was dropped and the Reprise "R" design was now set in a square instead of a circle.
Double Dynamite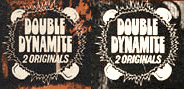 Apparently, there was a coupling of Hot Rats and Chunga's Revenge in South Africa, called Double Dynamite. From Mikael Agardsson:
It doesn't say that it was pressed in South Africa, but I've had it confirmed from various sources. Year of release unknown, probably in the mid-1970s. The front cover is Hot Rats with the words "DOUBLE DYNAMITE / 2 ORIGINALS", and the back cover is Chunga's Revenge. The gatefold cover has the Hot Rats back cover on the left and the Chunga's Revenge back cover on the right.
Art & Music Collection Edition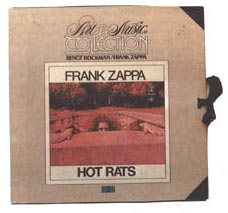 The weirdest edition by far of Hot Rats was in Germany, in the Art & Music Collection (Reprise REP59 021). The pictures were scanned by Mikael Agardsson from the Torchum Never Stops books.
From Kristian Kier:
The cover is made like an art folder with a ribbon to secure the artwork (in this case: the record). Bengt Böckmann, a swedish painter from Lund, is featured on this album. It seems to be a small series of regular recordings by artists from Warner together with some advertisement for paintings and painters. (I saw another one recently, but cannot remember which record and band and which painter.) Contains a short biography of the painter, a form to order an exclusive print of the art (the name of the painting is "Zappa-dwelling", but I cannot find any relations to Zappa) and a short summary about Frank and Hot Rats.

This album in this form is a little bit rare now, but not so unique that you'll never come across one. From time to time I see copies at record shows and flea markets. My record collectors' price guide says 22.30 DM (around $13) for this particular item, but you have to pay more for a mint copy.

By the way: the labels of the german pressings have the note "Art Gallerie" above the artist and album title printed. These can be found on normal pressings, too! My copy I bought somewhere in 1982 does have the wrong labels on. I still find other normal copies with them when browsing through the piles of vinyls on flea-markets and record shows. Someone at the record plant in Alsdorf must have fucked up ...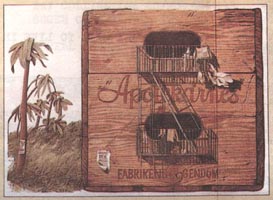 To the right is Mr Bengt Böckman's painting, "Zappa-Dwelling". "Apotekarnes" is a Swedish brewery and "FABRIKENS EGENDOM" means "property of the factory". The poster on the palm tree says "Varning Rat poison", and the little poster on the crate says
Varning!
Federal law
361129-3931
Extermination
Rat poison
"Varning" is the Swedish form of "warning"; 361129-3931 is believed to be Bengt Böckman's social security number :)
There were two slightly different versions of this outfit:
TONY BURKE: Spotted in Record Collector auction list (UK magazine): Zappa Art & Music Collection (German, 2 different issues)

MIKAEL AGARDSSON: The difference is that the second issue does not have the ribbon to tie it together. They're otherwise the same, the front cover's the same, I don't think there are any other differences ... I got my own Art & Music album today, and it's the version without a ribbon. The inner sleeve has pictures of a lot of other LPs, including Studio Tan, so I guess this version came out in 1978.
"Konzeption der ART & MUSIK KOLLEKTION von DIETER BRUSBERG + SIEGFRIED E LOCH"
Old Masters LP
Since the CD is remixed, and longer, what's the Old Masters LP like? Good question; not much answered yet. From Bermuda:
It is basically the same mix as the original LP, which I hugely prefer to the ... CD remix version.
Phillip Jacobi takes us home (sadly, he does not win the Porsche)
I put it on my trusty turntable, and I can confirm that it sounds much like the original LP that we all know and love. Notes
inside the gatefold mention that it is digitally remastered, and I'm not totally sure, but I think it's close to, if not the exact same
thing sound wise...[also] there seems to be a lack of digital reverb.
However, dlokazip compared the Old Masters LP to his Classic Records reissue and judged thus (prior to 2012, we note):

The Classic Records LP is drier and crisper than the Old Masters LP.

While the OM LP is very good, it does have a bit of reverb that Frank was fond of using at the time. Unless you're sensitive to reverb, it is not particularly noticable, particularly if compared to the CD.

The Classic Records LP, however, sounds like a layer of film has been removed. It has better dynamics and instruments are considerably clearer. I heard a flute in "Son Of Mr. Green Genes". I never heard that before.

The only are where the Old Masters LP bests the Classic Records LP is in the area of surface noise. The Old Masters LP has almost no surface noise. The surface noise on the Classic Records LP is fairly typical. I don't know if the 200g version is better in this regard or not.

For the LP mix of Hot Rats, the Classic Records LP is the best that I have heard. The Old Masters LP is still very good, just not as good.
Original CD
Remix & Opinion Gallery
When Hot Rats came out on CD, it was not at all identical to the vinyl original. And it generated a lot of opinion spin:
ERIC PEPKE: The CD has much less dynamic range than the vinyl. This may not be noticeable unless you have really good speakers. [Ed: It's pretty noticeable regardless!]

PAT BUZBY: The CD completely blows away the vinyl for me: it's like the difference between black-and-white and color TV.

STEN WINFIELD JOHNSON: Great sound, but noticeably remixed, bringing in unheard elements from the original sessions. At times, the additions are welcome (a longer intro on "Gumbo Variations"), but sometimes intrusive (piano vamping during "Little Umbrellas").

DAN WATKINS: On the vinyl version of "Little Umbrellas", the final note echoes for a few seconds. On the CD it doesn't.

MICHAEL PIERRY: I never had a problem with the '87 release, and when I went back and listened to the vinyl, I was shocked at the way "Little Umbrellas" was mixed (that little flute break is completely missing, and I was astounded that it was mixed out of the original like that). I must have horrible ears, because I can't find to complain about with my Hot Rats CD. But I like the different vinyl mix too. They're both cool.

BOSSK (R): Regardless of what new splendour has been tacked on the CD, I think the cymbals in the new mix sound like a low-bandwitdh MP3.

JWB: The original LP crushes the remix like a putrid grape. Now we're entering the territory of "the remix sucks but it's extended". This album needs to be remastered from the original LP master, or the original unedited mixes to save the "extended versions". The remix has no redeeming qualities to it whatsoever, at least compared to the vinyl. I just can't believe how bad it sounds.
From Neil in the UK & JYOB:
"Willie the Pimp"'s intro is mixed differently.
"Son of Mr Green Genes" suffers the most - the drums are lost in a wash of cymbals. The "duelling saxes" are pushed way into the background.
"The Gumbo Variations" is about 5 minutes longer - good mix.
"It Must Be a Camel" - some additional tracks/instruments (recorded during the original sessions) have been mixed back in.
From Bermuda Triangle:
"Peaches en Regalia": I don't notice a huge difference between the two.
"Willie the Pimp": since I love this track so much (and have the LP version permanently etched in my brain), I was shocked and pissed that the guitar solo is re-edited and reconstructed in parts. My favorite riff of the entire solo isn't even on the CD! Score one for the LP.
"Son of Mr Green Jeans": not much difference to my ears.
"Little Umbrellas" has added harpsichord and flute. I like the starkness of just the bass and drums better on the LP.
"Gumbo Variations": score one for the CD.
"It Must be a Camel": minor differences. Towards the end, a once clean guitar now has distortion. The part of the mini drum solo now has this ambience and reverb that wasn't on the LP. Not sure which I like better. [LEWIS SAUL: "There are major differences. The polyphony in many sections is radically different. The CD buries voices that are prominent in the LP, which yields a very, very different composition ...]
From Gary Horowitz:
I would agree that the clarity is unprecedented. The portions where different instrumental parts get brought into the mix plus the new extended sections are refreshing as well as entertaining. However, one thing I miss from the original vinyl mix of "Peaches en Regalia" was the ending figure where the theme is punctuated by speeded up drums or some other punchy percussive effect. It is either non-existent on the new mix, or so low that you can no longer hear it. This was one of my favorite parts of the song, because it's entrance was so festive and happy sounding. In my opinion its absence was not an improvement.
Artwork
The first CD was also missing some artwork from the vinyl; this was restored on the 1995 re-issue.
From Palestina:
The artwork inside the insert is in black and white, the later Ryko version has the art in color. Oh, and the font used for "HOT RATS" seems to be much larger.
"Gold CD"
From Ryan Davenport:
Re the Hot Rats "Gold CD" - at the time (1987 or 1988) I was an "international distributor" for Rykodisc. Hot Rats was released as a "picture disc" on a gold-colored CD. The CD was manufactured in the USA by Shape Optimedia. There is no difference in the catalog number and there is no indication anywhere on the package that it is a picture disc. My pressing of the original disc was made in Japan, which is printed on the back cover. The gold picture disc's package says "Manufactured in the USA" on the back cover.

The picture itself is nothing very remarkable. It covers the top 1/3 of the disc, and is simply a 2-color (purple & pink) cropped reproduction of the front cover. At the time, very nearly all discs had only text printed on them. I have a release by Lieb & Love (The Energy of the Chance) dated 1988 - its release was promoted with the fact that it had full-color artwork on the disc itself, supposedly for the first time ever.

On a short test, I don't hear any difference between the two discs, but there is one second of blank space at the start of "Peaches en Regalia" on the original pressing, whereas the gold picture disc starts instantly. Thus, the total disk length shows on my CD player as being 47:14 for the original and 47:13 for the gold disc. Someday I'll do a .WAV audio extraction and look at the files to see if they are perhaps byte-exact comparisons. [Ed: It's been done. See below for the results.]

I don't recall seeing any information as to quantities of the gold disc, just that they were limited. Perhaps someone at Rykodisc can provide us with that info.
According to Mikael Agardsson, it was a 5000-copy edition. From Biffy the Elephant Shrew:
I scored mine for the same price as a normal CD at the time, but I also seem to recall it selling for up to $19.99 at some shops. By the way, I do not believe it's a genuine gold disc, and it does not claim to be gold on the packaging. The color is not the same as that of real gold CDs like the Ryko Au20 series [wih Zappa's Apstrophe (') and One Size Fits All - Ed] or MFSL's Ultradiscs, but a paler color seen in discs that are merely tinted gold (for example, the Anderson Bruford Wakeman Howe live set).
1995 CD
The 1995 CD re-issue sported some new artwork (an inlay sheet behind the tray), described by Cal Schenkel as a "photo by CS of FZ & Miss Christine [of the GTOs] from a session at the Log Cabin, summer '68". Official Ryko statement: "New master. New timing sheet. Restored artwork. This is the 1987 remix." [full statement]
Official Ryko statement #2, from their Zappalogue catalogue:
CD LINK: This title has been specially encoded with additional information which you can access if you are equipped with a Mac OS or Windows computer with a CD-ROM drive ready to play audio CDs.
Gary Black's statement, however:
I'm listening to the 1995 CD right now, and just opened up Windows Explorer. Either I somehow managed to find the 1987 version (not likely, since Zappa actually sells in my area, and every other CD I've found is 1995-era) or someone was, as the saying goes, "smoking in front of a mirror" - there are NO extras on this CD. Too bad - I was SO expecting to find a Hot Rats trailer or something. (Note - the preceding was a joke. Laugh. Ha. Ha.)

Great soundin' CD, tho.
Charles Ulrich's explanation:
The necessary software is CD Link. It does indeed work, but it's nothing to write home about. It's just a way to cue the CD to certain points by clicking on a link on a hypertext page. Ryko took down their CD Link page for Hot Rats, but it can now be found on Bill Lantz' own website: http://members.cox.net/bill_lantz/hotrats/fzcdlink.html.
1995 CD versus the Old CD(s)
All CD versions derive from the same 80's digital remix. Unsurprisingly, they seem to be digitally identical, barring some slight track timing differences. (VERSIONS COMPARED: Old Ryko "gold" disc, new Ryko)
Japanese Paper-Sleeve Version (2001-2002)
Starting in 2001, Video Arts Music released a limited-edition series (2000 copies each) of Zappa CDs in paper sleeves - miniature LP sleeves. There was nothing special about this series other than the covers, which were very well done - inserts and "bonuses" were reproduced, the albums that originally had gatefold covers got little miniature gatefolds, and cover track lists were exactly as on the corresponding LPs, even in cases where the CD has bonus tracks or a different track order. Included in this series were some entries that never had "proper" LP issues, i.e. Läther. Additionally, some rarities--like the "green/gold" cover of Chunga's Revenge--were reproduced as special items in this run.
We need to stress that the sound quality of these discs matches the US Ryko issues, which they are clearly derived from. These are collectors items, not new remastered editions.
Late-2012-update: It appears as if the Japanese may be warming up the mini-LP ovens for a new batch based on the 2012 UMe remasters. We'll let you know if this happens.
Classic Records reissue
Classic Records, an audiophile record label, released Hot Rats with the permission of the Zappa Family Trust in 2009, or to quote the advertising copy: "Mastered and cut directly from the original analog master tape by Bernie Grundman under the supervision of Gail Zappa." It used the original vinyl mix (not the CD remix), and was reported to sound

very spiffy

, and was released in varying vinyl weight formulations.

2012 UMe CD

"Mastered 2008 by Bernie Grundman from FZ's original edited master." Yes, folks, finally:

the vinyl mix reappears on CD

. This is

essential

for those who just own the previous CDs. Sound quality has been getting raves so far.

Additional Informants
Brendan McEnaney, Mikael Agardsson, Marcelo Gasió, Strider, Patrick David Neve, Jos van Galen, Craig Jones, Gonçalo, Petter Lehn, Ommadawn, Squidboy 6, Christof Haßlinger (Verve Ratas Calientes).
Questions
Any details on cassette versions?
Any details on 8-track versions?
Any more regional peculiarities?
Any more release dates?
Is the Greek vinyl legit?
What's the Old Masters version like? Really?