Burnt Weeny Sandwich
What to Get: The 2012 CD, which lacks the reverb found on previous editions.

Summary: There are two basic versions: dry and with additional reverb. Starting with the Old Masters LP in 1986, all releases of "Burnt Weeny Sandwich" contained additional digital reverb. All pre-2012 CDs were the same, and contained the extra reverb; the new 2012 CD is dry like the original LP.
Also, every release except the original vinyl (?) and the 2012 CD has a tiny error in "Little House I Used to Live In". This is apparently due to the LP production source tape used for (all?) non-2012 reissues. The 1995 Ryko CD boasts extra cover/booklet artwork; however, it loses some CD credits from the Barking Pumpkin issue. (There was a rumour that "Little House I Used to Live In" and "WPLJ" were shorter on the CD, but they're not.)
ESSENTIAL VERSIONS FOR COMPLETISTS: The original LP or 2012 CD. All earlier CDs had extra digital reverb, and insane completists might want one. [completist's guide]
Issues
Original vinyl (Bizarre RS6370 in the US, February 1970 (repressed in 1973); three-colour label Reprise RSLP 6370 in the UK, March 1970 (repressed in September with one-colour label, probably mustard); brown Reprise RS 6370 in Canada, with and without gatefold cover)
German vinyls (RS 6370 (one-colour label, believed to be from 1970); WEA Reprise 44083)
Italian vinyl (44 083 / RS 6370 - title in red on front cover; blue Bizarre label)
French vinyls (Reprise SRV6116, steamboat label, 1971, single sleeve with the live picture from inside the US gatefold on back cover; also Reprise 44083, 1971?)
Greek vinyl
Mexican vinyl (Gamma GX01-397)
Imaginario Sandwich Quemado - Argentine vinyl (Music Hall 14.011 - white-label promos also issued)
Australian vinyl (Reprise RS 6370, 1970 - white-label RS6370 test pressing reported by Steve & Cindy Jones)
New Zealand vinyl (Reprise RS 6370, 1970, no gatefold cover)
Cassette
8-track (Reprise 8RM 6370, US)
Renumbered UK vinyl (Reprise K 44083, July 1971)
2 Originals of the Mothers of Invention (Reprise 64 024) - Dutch and German double LP coupling with Weasels Ripped My Flesh
UK vinyl re-issue (Reprise K 64024, 1979)
UK vinyl re-issue (Zappa Records ZAPPA 35, 1987)
Zappa Records cassette (TZAPPA35)
The Old Masters vinyl (Barking Pumpkin BPR 8888-3, November 1986)
Original CD (Barking Pumpkin D2 74329, October 1991, in the US; Zappa Records CDZAP35 in the UK, October 1991)
Barking Pumpkin D2 74239 CD, US, October 1991
Original Japanese CD (VACK 5081)
Russian CD (Dora JPCD 981453)
180-gramme vinyl #1 (1997?)
180-gramme vinyl #2 (Simply Vinyl SVLP 25, June 1 1998, UK)
Japanese paper-sleeve CD (Ryko/VACK 1210, September 21 2001 - Bizarre inner sleeve/folder)

2012 UMe CD (Zappa Records ZR3842 July 31, 2012)
Original Vinyl
The first US edition seems to have included a bonus poster/insert/attachment: two-sided, black & white, folds out to 4' by 10", with photos of the Mothers and a couple of Zappa, and says at the bottom on both sides "The Mothers Of Invention Sincerely Regret To Inform You".
MICHAEL GULA: Does anyone have insider info on why the intro to "Little House I Used to Live In" is messed up and whether the fault lies in the studio tape or in the mastering?
GRAHAM CONNAH: How is it messed up?
MICHAEL PIERRY: There's a little warble, right at the beginning of the track, but not on the original vinyl release.
BIFFY THE ELEPHANT SHREW: Correct, not on the original vinyl. But the "warble" showed up on later vinyl pressings. I have a German LP copy pressed around 1979 (judging by the other LPs advertised on the inner sleeve [1]) which has the warble. This raises the question of why a new master (with the flaw) was created sometime between 1970 and 1979.
MICHAEL GULA: It sounds worse than a warble. It sounds like the tape broke, and when they spliced it together, they overlapped the ends, shortening the chord. I'll never get used to hearing it that way.
And later.
JWB: This needs to be mastered from the original tape ... not the later LP-EQ'd master that Frank obviously used.
UK version
From Erik Steaggles (2003):
Burnt Weeny Sandwich was originally released in the UK on Reprise with the catalogue number RSLP 6370. I have come across three different pressings with this number. The very first pressing was on the 3-colour steamboat label. The matrix numbers read "RSLP 6370". The label credits "Igor's Boogie Phase 1" as "Igor's Bookie Phase 1"!!!. The second pressing was also on the 3-colour steamboat label. The label credits have been corrected and the matrix numbers read "K 44083", which is the number for the 1971 issue. This is definitely not a counterfeit because the matrix numbers are stamped. The third pressing is on the mustard steamboat label. Confusing, eh?! I used to own the second pressing, which I sold when I found a copy of the first pressing. The sound quality is the same on all three pressings, there is no warble to the intro of "Little House I Used to Live in". The only other copy I've seen of the first pressing sold on eBay for around £60, the other 2 pressings are worth £30 and £25 respectively.
Mexican Vinyl
1. W. P. L. J. (The Four Deuces) [Dobard]
2. El Boogie de Igor, Fase 1
3. Obertura para un Dia de Fiesta en Berlin
4. Tema de Burnt Weeny Sandwich
5. Dia de Fiesta en Berlin en Plena Ebullicion
6. Aybe Sea
7. La Casita Donde Yo Vivia
8. Valarie [Clarence Lewis / Bobby Robinson]
Imaginario Sandwich Quemado
From Marcelo Gasió's Argentine Discography:
Oddity: Ian Anderson (from Jethro Tull) is incorrectly credited as playing the piano intro of side 2 instead of Ian Underwood.
Australian & New Zealand Vinyl
From Collecting Frank Zappa in Australia - Part 1: The Early Years, an article by Stuart Penny in it - The Australian Record Collectors Magazine, Issue #14 June-July-August 1995 (provided by Henry Griggs, Sydney, Australia):
[a black & white back cover] awaited the original NZ issue of Burnt Weeny Sandwich (Reprise RS 6370) which, apart from its sturdy cover flaps, also featured a somewhat smaller, strictly monochrome version of the "God! this is a tasty little sucker!" rear cover photo. The Australian pressing (Reprise RS 6370), by contrast, boasted a full-colour gatefold sleeve, with only the high-gloss finish giving any hint as to country of origin.
8-Track
The four "programs", as 8-tracks had:
1. Little House I Used To Live In (Part 1)

2. Little House I Used To Live In (Part 2)
3. Valarie (Part 1)

4. Valarie (Part 2)
5. WPLJ
6. Igor's Boogie, Phase One
7. Overture to a Holiday in Berlin
8. Theme from Burnt Weeny Sandwich (Part 1)

9. Theme From Burnt Weeny Sandwich
8. Igor's Boogie, Phase Two
10. Holiday In Berlin, Full Blown
12. Aybe Sea
Renumbered UK Vinyl
From Record Collector magazine #118, June 1989 (quoted by Mikael Agardsson):
In 1971 ... Kinney Corporation took over the entire Warner Brothers organisation and all UK albums (and singles) were renumbered with a "K" prefix Stocks of old covers were used up by adding "K" number stickers to "RSLP" sleeves ...
Two Originals of the Mothers of Invention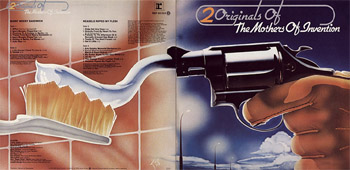 This is a Dutch and German double issue of the Burnt Weeny Sandwich and Weasels Ripped My Flesh albums, housed in a fold-out cover (by a "Patrick von Spreckelsen") depicting a pistol shooting toothpaste. The inner spread replicates the Burnt Weeny and Weasels Ripped My Flesh covers, left and right, but the Burnt Weeny cover has been modified: the word "STEREO" has been stricken out with white paint, and the title is printed in red instead of black.
The Old Masters Vinyl
This is the first release to use the additional reverb that would later be present on all non-2012 CDs.
The poster that came with the original vinyl (two-sided, black & white, folds out to 4' by 10", with photos of the Mothers and a couple of Zappa, and says at the bottom on both sides "The Mothers Of Invention Sincerely Regret To Inform You") was reproduced in miniature in the Old Masters version.
Original CD (Barking Pumpkin/Zappa)
Not one of the original Ryko releases.
According to Neil in the UK, the CD has "much better sound quality than the vinyl album". According to Michael Gula, it has some "twittering" reverb compared to the "dry" vinyl - see also the "warble" discussion under the Original Vinyl heading. There was a rumour that "Little House I Used to Live In" and "WPLJ" were shorter on the CD, but they're not. From Juha Sarkkinen:
At least the original CD (Zappa Records) had been remixed. This is revealed by the ADD on the back cover. [Ed: The Zappa Records series of discs frequently claimed remixes where none were apparent. That said, can anybody confirm this?]
Artwork Concerns
The original Barking Pumpkin CD is missing the original back cover artwork of the LP, and it slightly crops some of the other shots (the "tasty sucker" is amusingly remixed for the back cover, where the thought bubble leads to the UPC code; it's also represented in its normal state in the booklet). The 1995 CD presents the artwork in a fold-out booklet which better resembles the layout of the LP.
However, some information from the BP CD booklet is missing on the 1995 CD. That information is as follows:
Digital EQ by Bob Stone, UMRK, 1990.
1995 CD
The 1995 CD re-issue is allegedly a sonically cleaner version of the original CD, and contains extra artwork: an inlay sheet behind the tray which Cal Schenkel characterized as a "previously unused promo-photo by Ed Caraeff of the ever-growing Mothers (captured directly from the moldy contact sheet)".
The booklet in this release contains the teeny-tiny notation "Digitally Remastered 1986." This is likely then a "tweaked" version of the digital master used for the Old Masters release.
Official statement from Ryko: "New master. New timing sheet. Cleaned up audible garbage. [Ed: Anybody know what this refers to?] Restored artwork." [full statement]
1995 CD versus the Old CD
A quick'n'dirty comparison of the BP CD and the Ryko '95 revealed no differences on several tracks. What's this "audible garbage" referring to, then?
Japanese Paper-Sleeve Version (2001-2002)
Starting in 2001, Video Arts Music released a limited-edition series (2000 copies each) of Zappa CDs in paper sleeves - miniature LP sleeves. There was nothing special about this series other than the covers, which were very well done - inserts and "bonuses" were reproduced, the albums that originally had gatefold covers got little miniature gatefolds, and cover track lists were exactly as on the corresponding LPs, even in cases where the CD has bonus tracks or a different track order. Included in this series were some entries that never had "proper" LP issues, i.e. Läther. Additionally, some rarities--like the "green/gold" cover of Chunga's Revenge--were reproduced as special items in this run.
We need to stress that the sound quality of these discs matches the US Ryko issues, which they are clearly derived from. These are collectors items, not new remastered editions.
Late-2012-update: It appears as if the Japanese may be warming up the mini-LP ovens for a new batch based on the 2012 UMe remasters. We'll let you know if this happens.
1995 Vinyl
In 1995, Ryko re-released this album not only on CD, but also on vinyl. It is exactly the same version as the 1995 CD in a copy of the original vinyl cover. Also re-issued was a We're Only In It for the Money LP.
180-Gramme Vinyls
FACT: a company called Simply Vinyl re-released Burnt Weeny Sandwich and Weasels Ripped My Flesh on 180-gramme vinyl in the UK in 1998. HOWEVER: there may have been another 180-gramme release of these two albums in the UK in 1997, and we'll deal with these two releases one at a time.
1997
Here's what happened in September 1997. Tony Burke raised the question:
A mail order company advertising in this month's UK Record Collector have Weasels Ripped My Flesh and Burnt Weeny re-issues now availalble on 180-gramme re-issue deluxe pressings with heavy-duty sleeves and original artwork at £14.99 UK. Anyone know anything about these?
Biffy the Elephant Shrew chimed in:
The cover reproduction on Burnt Weeny Sandwich is suspiciously poor - looks like a counterfeit. Note the white edges along the thought balloon. Is any licensing info provided?
And Spence Chrislu at the UMRK answered:
Beware. I know that they did not use the original masters for these releases, so I'm sure it came from a CD or perhaps a recording from another, lesser-quality vinyl. We've also never authorized anyone to re-issue the original art.
John Hopkins added that:
It says "Licensed from Rykodisc" on the inner gatefold. The record itself sounds wonderful, but there's precious little in the way of liner notes.
1998
Here's what happened in 1998: A company called Simply Vinyl re-released both albums (Burnt Weeny Sandwich and Weasels Ripped My Flesh) on 180-gramme vinyl. As of spring 1999, this company had a web site at http://www.simplyvinyl.com. From Tony Burke, November 1997:
According to the latest Mojo mag, a company called Simply Vinyl are to release Weasels Ripped My Flesh and Burnt Weeny on 180-gramme vinyl, complete with 30-gramme card covers, with orginal artwork and taken from analogue masters. According to Mike Loveday, boss of SV these will be "fresh from the farm integrity packs".
From Kristian Kier, April 1999:
Matrix Numbers: SVLP 0025 A-1-1- and SLVP 0025 B-2-1-. Made in the UK. Released in the UK on June 1 1998, and in Germany as a UK import on March 22 1999. Price in Germany: 43,95DM (April 1999) (fucking expensive!).

All songs by Frank Zappa, except "WPLJ" and "Valarie", and are controlled for the World by The Zappa Family Trust d/b/a Frank Zappa Music, Inc. (BMI), or The Zappa Family Trust d/b/a Munchkin Music (ASCAP)
Original Engineer: Dick Kunc. Digitally remastered 1986. Cover art by Cal Schenkel. Album design by John Williams.
(P) 1991 Rykodisc
(C) 1970, 1995 The Zappa Family Trust
Reproduced under license. All rights reserved.
Unauthorised duplication is a violation of applicable laws.

[Logo] Simply Vinyl
Licensed from Rykodisc

Track list: side one: 1. WPLJ (02:52), 2. Igor's Boogie Phase One (00:36), 3. Overture to a holiday in Berlin (01:27), 4. Theme from Burnt Weeny Sandwich (04:32), 5. Igor's Boogie, Phase Two (00:36), 6. Holiday in Berlin, Full Blown (06:23), 7. Aybe Sea (02:46). Side two: 1. The Little House I Used to Live in (18:41), 2. Valarie (03:14).

The labels were dark orange with their logo and brand name on the top, along with all other info you might expect on a label. Nothing spectacular about it, but still different from the original one ... :) The cover is, I think, a complete and good reproduction of the original gatefold cover. I can't check it myself, I don't have an original in my collection yet. Compared to the Zappa Records CD it has Jimmy Carl Black included in the photo with Frank and Roy. The record is placed in an additional plastic outer sleeve (similar to the Baby Snakes picture disc), which has two silver stickers on it. The first is on the front, saying:

[Logo] Simply Vinyl
LIMITED EDITION VINYL LP
Classic Albums
180gr. Virgin Vinyl Pressings
Heavy Quality Sleeves

The second one is on the back and its function is to be a seal to protect the album from being opened. Round shape which says:

LIMITED EDITION VINYL LP
[Logo]
Simply Vinyl
Seal of
Quality
Also included with the album is a flyer with the anouncement of other albums being released.
Neither of these Burnt Weeny Sandwich packages include the original poster (two-sided, black & white, folds out to 4' by 10", with photos of the Mothers and a couple of Zappa, and says at the bottom on both sides "The Mothers of Invention Sincerely Regret to Inform You").
2012 UMe CD
The 2012 UMe/Zappa Records reissue, which was remastered by Bob Ludwig, restores the original vinyl version and loses the digital reverb from all previous CD versions.

It is definitive

. It also

restores the intro to "Little House

." However, internet eagle-eared people have noticed one small, new glitch to ruin your day. Spake ParloFax:


On "Aybe Sea" ("Burnt Weeny Sandwich"), there seems to be some sort of a glitch (nothing to phone home about, and the CD overall IS great!) ...OR my own CD is defective; it did have very small pressing or handling marks from the get-go, but they probably don't happen around this track anyway.

It's at the beginning of the track, where the electric guitar and harpsichord play in unison the opening melody's initial phrase:

Gb Gb-Gb-Gb G A (2x)

then the bit with the fast notes,

then they do it again (so the 3rd occurrence of the above phrase), and the FIFTH note (G) note "warbles".

This is not on the orignal US Bizarre LP. I compared both versions randomly BTW, and outside the volume, for what that's worth to my ear and on my stuff, they matched perfectly. In other words, they sounded identical to me.

Questions
Any regional peculiarities?
Any details on cassette releases?
Any 8-track details?
Was the poster included in the 1995 vinyl package?
Any details about the Russian CD?
Is the Greek vinyl legit?
Are the 180gram vinyl releases sourced from the digital masters?
How are the older discs different from each other, and from the current stock CD?
Additional Informants
Tony Burke, Neil in the UK, the Spence Chrislu, John Hopkins, Román García Albertos, Mikael Agardsson, Peter Öberg, Richard Kolke, Jos van Galen, Gonçalo, Mexpressings, Patrick Moore, Steve Jones
Footnotes
[1] Including Armed Forces, Van Halen II, George Harrison, Thanks, I'll Eat It Here, Cosmic Messenger ... and Studio Tan.