200 Motels
Did not appear on CD until 1997, because Zappa didn't own the rights to release it himself. The CD contained some bonus tracks. It was deleted circa 2002.
ESSENTIAL VERSIONS FOR COMPLETISTS: CD (it has bonus tracks). [completist's guide]
Issues
Original vinyl (United Artists UAS 9956 in the US, October 1971; UDF 50003 in the UK, November 1971)
United Artists 7C 138-92854/5 vinyl (1971)
Mexican vinyl (United Artists / Gamma GX 01-494/95, 1971? - laminated gatefold, Spanish info inside, records inserted from top!)
German vinyl (UAS 29218)
Dutch vinyl (UAS 5C188.928.54/55, including poster and booklet, 1971)
Italian vinyl (Liberty 3 C 154-92854/55)
French vinyl (Liberty Records UAS 29 318/9)
Swedish vinyl (Liberty 7C 138-92854/5)
Greek vinyl (14C 162-92854/5, unauthorised)
Australian vinyl (United Artists SUAL 934326/6, 1972 - censored!)
Indian vinyl (Gramophone Company of India / United Artists UAS 9956)

Cassette (United Artists C-7020)
French (?) cassette (United Artists K-9056/K-9057)
8-track (United Artists 04020)
Reel-to-reel (United Artists UST 9956-F-DP, triple-play 3.75 IPS)
Single LP (United Artists UAS 7045, 1972)
US vinyl re-issue (MCA 24183, 1980s)
US cassette re-issue (MCA MCAC2-4183, 1980s)

Advance CD (Ryko RCD 10513/14 ADV, 1997)
1997 CD (Ryko RCD 10513/14, 14 October 1997; VACK something in Japan, renumbered 5380/1 in 1998; Ryko/MGM release in Australia D80630; also in a BMG Record Club version (2213007))
Brazilian CD (ST2 50003)

And on the weird side, parts of this album seem to have been issued in Poland as a set of flexi-disc postcards.
Vinyl
Original/US
From Graham Sanders:
As was standard UA quality control, there were some piss poor copy masters about, and the US mastering was (as usual for that company at that time) kak, with the final product being pressed on putty.

The best I ever heard was the initial pressing of the UK issue, where Andrew Lauder supervised the cutting at CBS (at the time the best cutters in London) and, as I remember, managed to wangle the suite and engineer that was usually reserved for CBS Masterworks, while the finished discs were pressed up on first quality virgin vinyl at EMI Hayes. The weird thing about them is that some (most, I think) of the discs ended up with a strange marbling effect on the surface. It's completely silent and doesn't affect the tracking at all, and was caused by the press ejecting the moulding a couple of degrees hotter than it ought to have done. They're still tasty sounding biscuits, though.
From Zoot:
200 Motels was released in the US on United Artists UAS9956 in 1971. It was packaged in a four-color outside/one-color (black-and-white) inside double-pocket gatefold laminated (meaning cover printed on piece of paper which is then glued to cardboard underneath) sleeve. The initial pressings contained a 16-page 11-inch by 11-inch booklet of photographs/stills/a bit of score/film credits with outside cover and 6 internal pages in four-color and remainder of pages in one-color (black-and-white). The front cover of this booklet is a replica of the MPAA code certificate for the film's 'R' rating signed by Cal Schenkel. The initial pressings also contained a 22-inch by 66-inch four-color poster which was, more or less, the film one-sheet. This poster contained all of the Dave McMacken illustration which was also used, slightly truncated, on the 200 Motels album front cover. Disc one was side one backed with side four. Disc two was side two backed with side three. Each disc used the standard biege-and-brown United Artists Records label with song titles/publishing printed in black. Each disc was inserted in a plain white sleeve.
Some later American copies featured black and silver United Artits labels as opposed to the usual cream and brown design.
French
From Patrick David Neve:
Also, I've got the French pressing on Liberty Records. It's number is UAS 29 318/9. It was distributed by Pathe Marconi/ EMI, and its distribution number is PM 611. It's a gatefold cover with no booklet or poster. (I don't know if the poster was ever inside.) The first paragraph of the album information is translated in French. As far as I know this was a legitimate release, but its quality is definitely inferior to the US version.
From Zoot:
Shortly after original US United Artists 1971 album release, 200 Motels was released by United Artists Records (France) with catalogue number UAS 29 218/9. It was the same artwork as the US United Artists package on the outside except that this French package was a double-pocket gatefold direct-to-board (meaning cover printed directly on the cardboard which is then folded to form jacket) sleeve. The inside of the cover was slightly modified to include additional French translation (above the original English) of the 'Information' paragraph. There was no booklet or poster or other insert. The track listing is identical to the US United Artists release. Disc one was side one backed with side two. Disc two was side three backed with side four. Each disc used the standard biege-and-brown United Artists Records label with song titles/publishing printed in black. And, in addition, the reminder that you were listening to the "Bande sonore originale du film 200 MOTELS". Each disc was inserted in a plain white sleeve. The sound quality of the United Artists Records (France) release was equal to, and the pressing somewhat slightly better, than the US United Artists release. For quite awhile after the original US United Artists release release was deleted and before the MCA re-release was available (for the very limited time that it was), this French release was commonly imported into the US and seemed to be the only non-US 200 Motels pressing available.
Swedish
From Bjørn Olav Herheim
I did not get booklet or poster with this record. Maybe it was never included. This I don't know.
Australian
"Lonesome Cowboy Burt", "Redneck Eats" and "Shove It Right In" were partially censored, and "Penis Dimension" was completely deleted. From Collecting Frank Zappa in Australia - Part 1: The Early Years, an article by Stuart Penny in it - The Australian Record Collectors Magazine, Issue #14 June-July-August 1995 (provided by Henry Griggs, Sydney, Australia):
As often happens with soundtrack albums, it appeared on a label other than the one which normally handled Frank's releases - in this case United Artists. Unfortunately for Zappa, UA was at that time part of the giant Australian-owned Festival Records conglomerate which, perhaps more than any other Oz label of the time, was notorious for adopting a high moral stance in the face of any kind of perceived subversive behaviour by those long-haired, limp-wristed, pinko rock star types.

In retrospect, 200 Motels must have been Festival's worst nightmare come true. For a start, they probably didn't understand a single word (or note) of what was going on here. Even so, with song titles like "Shove It Right In", "Half a Dozen Provocative Squats" and "Penis Dimension" they must have realised something was going on and whatever it was, they decided that they didn't particularly like it. Accordingly, several naughty words were unceremoniously expunged from "Lonesome Cowboy Burt", "Redneck Eats" and "Shove It Right In". As for the aforementioned "Penis Dimension", well, Festival clearly couldn't come to terms with this one at all and so decided the safest thing was to delete the entire track!

Around this time, the thorny issue of censorship was taken up by the late, lamented Aussie rock weekly Go-Set. Under the bold headline "Zappa LP Ripoff" the magazine carried the following strongly-worded (if barely-literate) editorial in their June 17, 1972 issue (only the grammar/punctuation has been cleaned up to protect the innocent):

Whatever you do don't buy the local pressing of Frank Zappa's 200 Motels - if you do you'll only be getting half the story. Yes, the boys have censored old Uncle Frank again. You may recall how Only In It for Ths Money [sic] was cut to pieces and "I Really Fucked Up in Europe" [sic - the actual title is "The Voice of Cheese"] by Suzy Creamcheese was wiped off Uncle Meat. Those with longer memories will remember "Bloody Red Baron" [sic - the actual title is "Snoopy vs the Red Baron" by The Royal Guardsmen] and "Working Class Hero" on Plastic Ono Band as well. Well this time our betters at the Festival Record Company have really excelled themselves - 200 Motels has no less than two [sic - actually only one] tracks with most of the pithy dialogue neatly removed. This is becoming a disturbing trend in Australia - the voluntary censorship of records by local companies before pressing them and putting them on the market. It is a disgrace to think that a company supposed to be involved in a creative industry is so small-minded and chicken-shit. The best way to serve notice on these people that we've had enough of this crap is to completely boycott the record. Who'd want it when so much is missing anyway? Import copies are available at most of the usual record shops around town. There is a book and poster with the US version, so you can see the economy drives at present operating in the Australian record industry and you can see where they're saving at your expense. Vote with your pocket. Leave this record where it belongs - in the warehouses of the record company. They might dig half a record - there's no reason they should force you to do the same.

Strong words indeed - not that they achieved very much, mind you. Perhaps because they weren't answerable to an overseas parent company in quite the same way that EMI, CBS (now Sony), Phonogram and the other Australian record companies obviously are, Festival blithely continued to censor records indiscriminately for many years after the 200 Motels debacle (as anyone who subsequently bought copies of Ian Dury's New Boots & Panties or Marianne Faithfull's Broken English will testify). Paradoxically, twenty-four years down the track, overseas collectors are now keen to pay $50 or more for clean copies of the censored Aussie version of 200 Motels.
Jasper has an entirely different sort of 200-Motels problem (he's also not quite sure about the accuracy of the Festival censorship information above):
But to my 200 Motels issue, my copy seems to have been pressed onto absurdly thick and heavy vinyl because my turntable canít get the platter up to 33 1/3 rpm to play the damn thing! I was wondering if anyone else has heard of this issue as this is the only heavy vinyl pressing that I have that seems to be heavy enough to cause a problem.
Indian
From Hasi:
Today I picked up a copy of 200 Motels (United Artists UAS 9956). It comes from India! It has no "real" information about the year of release, only the copyright (C) 1971 inside the gatefold sleeve. The label is beige and has: MADE IN INDIA BY THE GRAMOPHONE CO. OF INDIA LTD. The cover, which consists of very thick cardboard, has been made by EAGLE LITHO. The Vinyl itself is also very heavy (200 g). The sound quality is the same as the standard US release. No booklet and no poster. No track times listed on the back cover.
Single LP
From Christof HaŖlinger:
This is a single-LP issue of 200 Motels (United Artists UAS 7045), and comes in a single sleeve (no fold-out). The colour of the label is beige, just like the original US release (UAS 9956). The label states: "(P) February, 1972." The front cover is the same as UAS 9956.

The back cover is in black & white and has:

The "square" Bizarre Productions logo;
A United Artists logo (different, the a is placed inside the U, surrounded by a quadrangle - I wish I had a scanner);
The word "interpak" in the lower-right corner;
The following track list:

SEMI-FRAUDULENT 1:59
MYSTERY ROACH 2:33
DANCE OF THE ROCK AND ROLL INTERVIEWERS :48
TOURING CAN MAKE YOU CRAZY 2:53
WOULD YOU LIKE A SNACK? 1:23
REDNECK EATS 3:03
CENTERVILLE 2:31
SHE PAINTED UP HER FACE 1:42
JANET'S BIG DANCE NUMBER 1:18
LUCY'S SEDUCTION 4:00

DADDY, DADDY, DADDY 3:11
WHAT WILL THIS EVENING BRING ME THIS MORNING 3:27
MOTORHEAD'S MIDNIGHT RANCH 1:30
LITTLE GREEN SCRATCHY SWEATERS 1:01
STRICTLY GENTEEL (The Finale) 11:09

There is no information about where the record comes from.
VINYL/TAPE
US Vinyl & Cassette Re-Issues on MCA
From dbrodie@voicenet.com:
Hello ... I don't have the Liberty pressing, but I also have two copies. My original UA copy, which sounded OK to me at the time, and later on I found a MCA re-issue. That one's pretty crappy. It sounds "thin" to me.
From Zoot:
A few years after the United Artists release was deleted, MCA acquired the rights to re-release 200 Motels. The MCA re-release, which was a budget 'two-fer' and I believe was only released on album [no, there were cassettes - see below], was two discs (presumably with the then-MCA generic labels) shoved into a single jacket sleeve which utilized only the original front cover and original back cover art. I do not believe this MCA edition contained any booklet, poster or any other insert. I have no idea what it sounded like in comparison to the United Artists pressings. The MCA edition always looked so sloppy and so mercenary to me that I never pu***ased it.
From John Henley:
I gather ... that the mid-1980s MCA re-issue LP was taken from an inferior source and could qualify as "cassette-like".
From JWB:
There was definitely a cassette. There was a record store near where I live that had a sealed copy in their Zappa section until about 1992. It was your standard 1980s MCA cassette release, with a blue spine and the song titles crammed onto the back flap in tiny print. The LP cover was reproduced on the front, with a big empty blue section underneath with the old MCA logo in the middle. I remember this info clearly because I kicked myself over and over again for not picking it up when it finally went out of print.
From William A Lawson:
My copy is an '80s MCA re-issue promo cassette I bought at a record store on Van Nuys Boulevard, near the Ventura Freeway, when I still lived in southern Califonia. Its catalogue number is MCAC2-4183. It was recorded with Dolby HX PRO B NR, and has a circular "MCA Soundtracks Classics" logo at the bottom of the front cover, under the cover art, with the MCA logo to the right and the "Dolby System Dolby HX PRO" symbol to the left with the MCA catalog number above it. Some of the microscopic printing on the flap is obscured by the metalic "For
Promotion Only" stamped primarily over the cassette's UPC symbol. In fact, the UPC number is unreadable on my copy.
COMPACT DISC
200 Motels was finally re-released on CD in 1997. Zappa never owned the rights to release it, but Ryko finally managed to negotiate a release. It remained in print until circa 2002, when it was deleted from the catalogue.
The CD contains extra material. According to Román García Albertos:
There are four promotional radio spots, the single edit (shorter) of "Magic Fingers", and an enhanced CD track with the Original Theatrical Trailer (with fragments of the movie and animation by Cal Schenkel). The CD also contains a ten-page article by Patrick Pending narrating the story of the filming in great detail. The booklet has 52 pages with lots of photos.
The extra material appears last on disc two, as CD tracks 16-20:
16. CUT 1 "Coming Soon! ..." (00:56)
17. CUT 2 "The Wide Screen Erupts ..." (00:57)
18. CUT 3 "Coming soon! ..." (00:31)
19. CUT 4 "Frank Zappa's 200 MOTELS ..." (00:11)
20. Magic Fingers (Single Edit) (02:57)
They are followed by an enhanced CD bit with video information.
Sound Quality (Vinyl vs CD)
From Zootorific:
Rykodisc used Zappa's original 2-track stereo master tape to create the 200 Motels compact disc. So when listening to the Rykodisc 200 Motels compact disc you are listening, for good or for bad, to an exact copy of this 1971 2-track stereo master which Zappa delivered to United Artists.

To hear what the 200 Motels soundtrack album might sound like if it were ever to be completely remixed from the original multitracks using today's technologies, you can hear a Zappa stereo remix of "Semi-Fraudulent/Direct-from-Hollywood Overture" made from these original multitracks used as a music bed at the conclusion of the Honker THE TRUE STORY OF 200 MOTELS home video. The difference in quality between the stereo mix Zappa prepared in 1971 for the United Artists soundtrack album and the one Zappa prepared for this Honker home video some fifteen years later is simply stunning.
From Patrick David Neve:
The MGM version has been given the "compress-the-shit-out-of-it" mix that is so popular with engineers nowadays. This actually benefits rock & roll numbers like "Mystery Roach", but delicate passages such as "Dance of the Just Plain Folks" suffer greatly. For the classical sections, the boot has a superior sound, with much greater dynamic range, clarity, and apparent depth. The MGM release has no depth at all, it sounds as flat as cardboard compared to the bootleg. However the rock numbers have been improved. If only the engineers had treated the tunes with different approaches. Songs like "She Painted Up Her Face" sound great on the MGM, while "Lucy's Seduction ..." is just wallpaper. The MGM is clear due to compression, but lacks depth. The boot has depth and life because of its dynamic range, but lacks "thump". I should add that even though the bootleggers probably used LPs as their source, there is no audible background noise. I believe great care was taken to produce an excellent sounding source, and therefore it stands up favorably to the current legitimate release.
From David G:
I don't think 200 Motels is compressed nearly as much as Pat says (nor, for that matter, is it as compressed as many of Zappa's own remasters). It isn't ideal, but it's still a great release. And while that counterfeit bootleg set is quite nice, it does have audible surface noise in several of the quieter passages.
From Dave:
... my original response to the poor quality of this record and its reputation is based on the actual recording done on the sound stage, not anything to do with the reproduction of this recording. I'm sure that there are very specific differences between the different editions of this record, but one thing that remains consistent across all of the is the fact that Dunbar's drums are out of phase. The record was recorded simultaneously with picture on a sound stage in a very hurried fashion keeping in tradition with film production practice. I could be wrong (someone please correct me) but I think the job went so far over budget that only 70% of the original script ever got shot and how much of what they shot which was useable is certainly less than that. So, with the pressure of producing a movie on Franks shoulders, attention to every little last detail had to be pawned off to the production staff as for those that have never done it, making a movie is about the most amount a pressure that a human can endure, next to maybe open heart surgery with plastic picnic utensils. Anyway, the production sound was most likely executed by union film engineers as the unions on the English stages are even worse than our film unions here. So, while film engineers usually will laugh at any music engineer, the guys that recorded the music for the film didn't do the hottest job. From looking at the film and considering the fact that it was England, Schoepps mics were definitely used in junction with a dynamic for both Flo and Eddie's vocals. This is the source of the distortion that is all over their vocal tracks, doesn't seem from inspection that there were cut 1 or 2 filters (which would have provided a pad for the capsules) on the mics, and a big guy screaming into one of those mics from 4 inches away is just not going to work, they are far too sensitive. That is the first issue. Second, the drums are severely out of phase in the overheads. With the amount of mics that must have been on stage, this is often unavoidable which makes me question who was monitoring the recordings because while the physics of the situation render this unavoidable, there is no one stopping the engineer from either removing a mic or moving its position to fix the problem, which either didn't happen (in the case of removal) or didn't happen enough (in the case of changing mic position).

That is from my perspective as a listener. Now, for someone who was there, I'm sure that this recording is not at all reflective of the way it sounded on the stage, especially in respect to the orchestra. So, for everyone who has been quoting Frank in interviews complaining about the bad sound of this record, he is not referring (in all likelihood) to the reproduction of the recording and its inefficiencies. I would think that he is addressing the errors that occurred in production as the source of his dissatisfaction. A crummy vinyl pressing certainly didn't help his situation, but the master tapes weren't 100% to start.
From JWB:
Frank's remix of "Semi-Fraudulent" from the "Making of" video sounds spectacular - I wonder if he remixed the whole album? A new remaster without all the fucking compression would be nice.
Advance CD
From Richard Kolke:
Rykodisc 200 Motels promo CD: Double jewel case - has an orange, black and white cover that says "SNEAK PREVIEW - Frank Zappa's 200 Motels". The back cover says "Promotion Only - Not for Sale" and the insert is a single sheet with the original cover artwork in black and white on one side and release date info on the other side. The CDs contain all of 200 Motels, but none of the bonus tracks or the computer enhancements. Catalogue # RCD 10513/14 ADV.
Brazilian CD
From Julio in Brazil:
ST2 has the exclusive license to release the MGM/Rykodisc OST/titles in Brazil. And the first was 200 Motels, 1997. You can see more info at (in Portuguese):

The Brazilian release comes with the booklet and poster too, like the USA release. Also, Eldorado released a lot of Zappa CDs under different Ryko catalog.
We may have a picture of the Brazilian edition: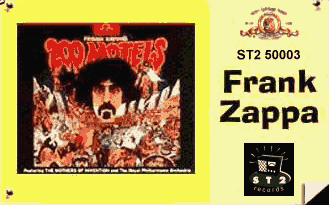 (Note that the 50003 number is the same as on the original UK vinyl from 1971, UDF 50003.)
Australian cd
Unlike some of the other Ryko releases (which were just restickered in their Australian editions), Australia seems to have been blessed with some bizarre, multi-national hybrid for "200 Motels." Geoff Pointer explains:
I'm familiar with the situation that happens sometimes when an album is manufactured in different locations which often leads to different catalogue numbers but the base on mine says that it was printed in the USA and manufactured in Canada. A notable point is that the CD prints are very badly done, it's very difficult to read the copyright info around the edge of the discs. There is a Festival logo above where it says Ryko, MGM and Enhanced CD on the base in the red strip on the right hand side, if that's a clue? When Festival Australia organises releases it normally has a blurb saying it was manufactured in Australia, but there's nothing like that on this one. I can't find any mention of BMG. My guess is that it actually is an Australian pressing and was just a bit of rush job. There doesn't appear to be any censorship.
"Superlative Box" (Does NOT Exist)
From Mikael Agardsson:
On the information sheet that comes with the promo 200 Motels CD there's a weird record number. It says "... and limited edition superlative box RCD 90513/14". I e-mailed Rykodisc and they told me that the box was never made, and never will be.
Bootlegs
Since 200 Motels was unavailable on CD for so long, several bootleg CDs have been issued.
Questions
Any details on 8-track versions?
Were there other re-releases on vinyl?
What about a Japanese CD?
Additional Informants
Record Collector magazine #118, June 1989
Mikael Agardsson
Ariel Ross
Jos van Galen
Erik Broer
Julio, Brazil
Hasi