Records by Other Artists with Zappa on the Cover
Sandy Hurvitz: Sandy's Album Is Here at Last!
LP (In-Discreet/Verve V6-5064-X, 1967)
CD (Demon Records, 1994; Edsel Records EDCD399, 1994)
Unique material: there is no Zappa material on this record
Zappa appears on the cover of this album as a face on a TV screen, calling-out that "SANDY'S ALBUM IS HERE AT LAST!"
1. Child (03:08)
2. Three Hawks (03:02)
3. All This Time Going By (05:44)
4. Woman (02:23)
5. The Sun (06:48)
6. Many Different Things (04:14)
7. You'll Dance Alone (03:27)
8. Tree uf Trees (03:49)
9. Arch Godliness of Purplefull Magic (03:24)
10. Love Is What I've Found (03:47)
Additional informant: Michael Gula
Mark Volman & Howard Kaylan: The Phlorescent Leech & Eddie
Unique material: there is no Zappa material on this record
From Ken Walter:
The Mark Volman & Howard Kaylan LP "The Phlorescent Leech & Eddie" (Reprise MS-2099, 1972) has the 200 MOTELS poster featuring Zappa on the back cover. Also note the Holiday Inn sign to the left of the poster [not entirely easy to make out in this cover scan - Ed].

This was their first album after the break-up of the vaudeville Mothers and includes three other members from that band (Aynsley Dunbar, Jim Pons & Don Preston).
Unique material: There is no Zappa material on this record.

This is a fairly unknown 7" EP from Thailand, with an ugly picture on the cover of Zappa adjusting a little TV set. The contents are as follows:
1. Brownsville Station: Lighting Bar Blue
2. Neil Sedaka: Baby Blue
3. Penny McLean: Lady Bump
4. Tina Charles: You Set My Heart on Fire
Taiwanese 7" EP
Unique material: There is no Zappa material on this record.
1. Black Sabbath: Iron Man
2. The Raiders: Country Wine
3. The Osmonds: Down by the Lazy River
4. Edgar Winter: Keep Playin' That Rock & Roll
Strange!

Informants: Meritad, Mikael Agardsson
Thai Promo EP
Unique material: there is no Zappa material on this record.
1. Polly Brown: Up in a Puff of Smoke
2. Odia Coates: Showdown

3. Tim Moore: Charmer
4. Sam Neely: I Fought the Law
Another really odd EP from Thailand. Zappa is on the cover, as if "presenting" the other artists.
Informants: Thairecs, Mikael Agardsson
Amnesty International / THEM OR US Picture Single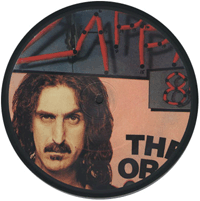 Unique material: There is no Zappa material on this record.
From Mikael Agardsson:
I was at a record fair in Solna last weekend, and found a weird single (see picture). This single has no Zappa material! What it does have is information about Amnesty International - a few men from Amnesty International relate (in English) what Amnesty International does and what their organisation is about. The (British) guy who sold this single claimed that it was a test pressing, only made in one copy. Of course, I can not confirm that this is true.

Only the picture side is playable. The flip side is blank, and white in colour. There is no information at all etched or printed on the record.
From Kristian:
I cannot exactly recall when it was, but I assume that it was between 5-10 years ago, that I saw lots of these AI pic disc 7" on record fairs. They were available by lots of artists, all said to be limited to 1 copy, all did not include music but spoken information about AI, they were all singles, and they were all pic discs. And, to be sure, they were all quite expensive. (Because of their rarity ...)

I assume that some bootlegger manufactured all of these records, like regular pic discs are made, but with the difference that different pictures were inside the clear vinyl for each pressed record (if there is indeed only one copy per artist). I cannot say for sure which artists were also featured in this series, since it was some years ago that I saw them, but I think I recall that Tori Amos and Sting were among them. I wouldn't bet on it, however.
Psychedelic Breakfast: Psychedelic Breakfast
Unique material: there is no Zappa material on this record
1. The Vermont Song [04:26] [Tramontano/ Giangreco]
2. Garcian Fishbowl [09:32] [Palmieri]
3. Attraction to Shade Ditty [01:26] [Spears]
4. Puppetry [09:08] [Tramontano/Giangreco/Moniello]
5. Heather [03:32] [Palmieri]
6. No Glove, No Love [03:43]
7. Episode 1 (Happy) [05:17] [Palmieri]
8. Frankly Po Zest [06:37] [Palmieri]
9. Uncle Freddy [01:51] [Palmieri]
10. Superfly Phaddy Fat [08:54] [Palmieri]
Tracks 2, 5 & 7-10 are instrumentals. Psychedelic Breakfast are: Tim Palmieri (guitars, slide flute, vocals), Adrian Tramontano (drums, pots & pans, water jug, vocals), Ron Spears (bass, kazoo, vocals) and Jordan Giangreco (keyboards, harmonica, vocals). The cover painting depicts Zappa as puppet master; above him is flying James Brown.

Informants: FunkySlop, Psychedelic Breakfast