Broadway the Hard Way
The CD is longer than the vinyl, but there is some material on the vinyl that is not on the CD. The 1995 Ryko CD is not significantly different from earlier CDs.
ESSENTIAL VERSIONS FOR COMPLETISTS: Vinyl and any CD (both have a little unique material of their own). [completist's guide]
Issues
Test pressing (October 14 1988, pressed by the Allied Record Company, with matrix number "FZ Hotline 818 Pumpkin") [this is not an issue]

Vinyl (Barking Pumpkin D 174218 in the US, October 1988; Zappa Records ZAPPA 14 in the UK, May 1989)
German vinyl (Zappa Records ZAPPA 14 / Intercord 148.511, 1989 - gatefold cover; lyrics on one side of inner sleeve, other side blank white)
German CD (Zappa/Intercord 848.511)
German cassette (Zappa/Intercord 448.511)
French vinyl (Accord 103431, gatefold sleeve, sounds weird)
Cassette (Barking Pumpkin D4-74218 in the US, Zappa Records TZAPPA14 in the UK)
Original CD (Ryko RCD 40096 in the US (imported into Australia by Festival Records and re-stickered Ryko D40736), Zappa Records CDZAP 14 in the UK, May 1989 (?); VACK 5053 in Japan)
Czechoslovakian vinyl (Globus International 21 0075-1 311, 1991, promos also issued - came in four versions: limited 1000-copy fan club edition, two different colour vinyl variants and as picture LP)
Czechoslovakian CD (Globus International 210075-2311, 1992)
Czechoslovakian cassette (Globus International 210075-4311, 1992)
Japanese paper-sleeve CD (Ryko/VACK 1260, November 21 2002 - inner sleeve with printed lyrics and Honker Home Video ads)
Vinyl
The vinyl was shorter than the CD and had a different track order. There was a spoken intro to "Dickie's Such an Asshole" that never made it to the CD. The vinyl track list, courtesy of Román García Albertos:
1. Elvis Has Just Left the Building (02:24)
2. Planet of the Baritone Women (02:48)
3. Any Kind of Pain (05:24)
4. Jesus Thinks You're a Jerk (09:15)

5. Dickie's Such an Asshole (06:37)
6. When the Lie's So Big (03:38)
7. Rhymin' Man (03:51)
8. Promiscuous (02:03)
9. The Untouchables (03:05) [Riddle/Willis]
Again courtesy of Román García Albertos, here is the intro from "Dickie's Such an Asshole" that's not on the CD:
ZAPPA: "Alright ... CNN ran a story last week about this new product that has been developed for our prison system ... it is called 'Confinement Loaf'. Now, what it is is bean by-products compressed into a loaf ... which is administered to problem prisoners ... their diet would be a slice of 'Confinement Loaf' and a cup of water ... and it seems to mellow them up right away ... So my question is: How long before 'Confinement Loaf' appears in United States high schools?"
Román continues:
The vinyl's last song is "The Untouchables", and after Ike's monologue, Zappa introduces the band (this part is not in the CD):

ZAPPA: "And The Untouchables are ... Ike Willis ..."
IKE: "Thank you!"
ZAPPA: "Mike Keneally ..."
IKE: "History!"
ZAPPA: "Walt Fowler ... Bruce Fowler ... Paul Carman ... Albert Wing ... Kurt McGettrick ... Chad Wackerman ... Ed Mann ... Robert Martin ... Scott Thunes ... Eric Buxton ... Thanks for coming to the show, and good night!"
(Editor's note: Eric Buxton was a very big fan who saw a lot of concerts.)
Cassette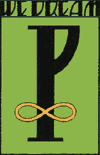 From Ron Spiegelhalter:
It appears to be identical to the LP; it has the same track order and contains the "Confinement Loaf" rap. The packaging is noteworthy, however. I'm not sure if it differs from the LP at all, but it definitely differs from the CD. The spine has just the title and the hand-shadow-elephant as seen next to the band names on the CD insert. On the inside of the fold-out, and on the cassette itself, is a logo I've never seen anywhere else. It features an upright rectangle with the words WE DREAM across the top of it. Inside the rectangle is a stylized capital P with an infinity sign across the lower stem on the P. All of the graphics on the CD are on the cassette, plus there's an Old Masters ad. It's a US release, catalog number D4-74218.
From Biffy the Elephant Shrew:
The LP also has this logo, though more subtly deployed: the background of the lyric sheet is covered with this logo alternating with a "Broadway the Hard Way" logo. Oh - and carefully inspect the "Failure Toybox" illustration in The Real Frank Zappa Book.
The TRUE STORY of the POSSIBILITIES UNLIMITED Logo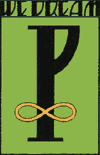 By Giancarlo Trombetti (another great Italian):
Well ... when I was in Rome working for Massimo Bassoli on some of his rock magazines, Frank decided to stay in Rome as a guest in Massimo's home for a short while at the end of the italian leg of the 1988 tour. It was june 1988 and he (Frank Zappa) had just got an offer from the mayor of Milano to organize a big event to be held in Milano in 1990 during the football world cup; apparently Zappa decided to offer the Mayor the Dio Fa opera which needed a full orchestra to be played (I still have hidden somewhere the faxes Zappa sent to the mayor when he decided not to proceed because he was pissed off by the mayor's attempts to reduce the costs).

Apparently the whole thing would have been organized by a company Zappa decided to build up and which was named "Possibilities Unlimited". That explains why the logo you called "WE DREAM" has a P with a horizontal 8 on it: it's the logo which signs the unlimited position on a camera. Frank himself did the logo. During the procedures of "inventing" the thing, Massimo was there ... and I was sat down ONLY TWO metres from Frank. Zappa printed some test stickers from these sessions in front of a Macintosh PC and he gave me a couple of stickers as a present for his intrusion in our editing room. Needless to say: I still have them. The "WE DREAM" phrase was a way to stress that he wasn't so sure that the whole operation should reach its goal, and he was right. After months of faxes - which Massimo always received in Rome as sort of personal advisor of Zappa - the mayor of Milano (who was at that time a man named Pillitteri) said the thing had to be cut down in costs because it was too expensive. Zappa sent back a fax with four chances to be chosen by the mayor. More or less they were (if my memory's still working, but I'd better check it out):

I believe it would be better if we decided to miss this opportunity.
Why don't we miss this opportunity?
It's better for us if we miss this opportunity.
There's a thing we could do: miss this opportunity.

And this is how the whole opera ended. The mayor said that 2 billions of Italian lire were too much for the entire opera; Zappa said that he was about to spend nearly half the price with the orchestra's scores.
Original CD
The track list, courtesy of Vinsku Chandrasekhar:
1. Elvis Has Just Left the Building (02:24)
2. Planet of the Baritone Women (02:49)
3. Any Kind of Pain (05:42)
4. Dickie's Such an Asshole (05:46)
5. When the Lie's So Big (03:38)
6. Rhymin' Man (03:50)
7. Promiscuous (02:03)
8. The Untouchables (02:26) [Riddle/Willis]
9. Why Don't You Like Me? (02:57) [CD bonus track]
10. Bacon Fat (01:30) [Williams/Brown - CD bonus track]
11. Stolen Moments (02:58) [Nelson - CD bonus track]
12. Murder by Numbers (05:37)[Sting/Summers - CD bonus track]
13. Jezebel Boy (02:27) [CD bonus track]
14. Outside Now (07:50) [CD bonus track]
15. Hot Plate Heaven at the Green Hotel (06:40) [CD bonus track]
16. What Kind of Girl? (03:17) [CD bonus track]
17. Jesus Thinks You're a Jerk (09:17)
From Eric Pepke:
The CD contains many more songs than the vinyl but is missing the short confinement loaf intro to "Dickie's Such an Asshole" [that was on the vinyl].
From Mike Quigley:
Frank exhorts the audience to register to vote during the intermission on the vinyl version. I don't think this is on the CD.
Eric Pepke again:
Yes, 'tis, but the "intermission" is in the wrong place. The exhortation to vote is at the very end of the CD. I have no joke. I just like typing "exhortation."
The release date has been called into confusion by Lewis Saul:
... my job interview with Zappa was in mid-June of 1989. When I walked into the studio, Bob Stone was mixing "Stolen Moments". I remember it so clearly because it took me a few moments to realize what I was listening to. In any case, is it possible that that release date was pushed back? Why would Stone have been mixing Broadway the Hard Way AFTER it had already been released?
Japanese Version
From Mikael Agardsson:
It's not entirely correct to call it a Japanese CD, as it's American made, but it's intended for the Japanese market: it comes with a 110-page booklet and obi . The front and back cover of the booklet have Cal Schenkel artwork. It's almost entirely in Japanese; a few pages are in English. For example, it lists how many times each song was played on the tour.
Czechoslovakian Vinyl, CD & Cassette
The Globus LP 210075-1311 came in four versions:
Single sleeve, lilac vinyl. "Fan club edition" sticker on cover. Limited to 1000 copies. Lyrics on one side of inner sleeve; ads for Honker Home Video's UNCLE MEAT and THE TRUE STORY OF FRANK ZAPPA'S 200 MOTELS on other side.
Same as first version except no sticker.
Multicoloured vinyl: still lilac, but with a yellow sunburst figure.
Picture LP: front cover image on side A and back cover image on side B.
From Johannes Wijffels:
Just this afternoon I bought Broadway the Hard Way in my local CD store (low budget, but all new CDs). When this girl put the CD in the case I saw it was a PICTURE DISC with the album sleeve on it (picture of ZAPPA), full colour. It turns out to be a GLOBUS INTERNATIONAL release from Czechoslovakia from 1992. It sez: "Manufactured by Globus International and Art production K under license of Barking Pumpkin Records. Distributed Exclusive by Globus International - Praha 2, Jaromirova 61, tel.: 439 596, fax 436 536." Catalog number 210075-2311. Sound rather official, doesn't it? It is.

There's only one difference between this version and the "regular one" (beside the picture disc): tracks 10 & 11 ("Bacon Fat" & "Stolen Moments") on the regular one are here just track 10, so the rest of this disc goes one number down (if you can follow me). It reaches number 16, though the back of the case sez 17. Album length is almost the same (Globus one is slightly longer).

I think this is strange. Where those guys sleeping when preparing this (16 tracks on CD, inlay and case sez 17!)? But the picture disc is great, really great. So it turns out import from Czechoslovakia, I think.
From Dr. István Fekete:
There's a standard and a picture CD version. (I have the standard CD, with the catalogue number 210075-2311.) Legal and basically the same as those on Zappa Records.

Román García Albertos also reports a cassette issue from Globus, with printed lyrics, and the same content as the vinyl.
(What once was Czechoslovakia are now the Czech and Slovak republics, since January 1 1993. But these releases are from 1992, so they were Czechoslovakian. Globus also issued Joe's Garage.)
1995 CD
Much like the original CD. Official Ryko statement: "New master. New timing sheet." [full statement]
1995 CD versus the Old CD
From the 2004 Zappa CD Rundown:
I have the Czech CD and the '95 CD, and they're mostly identical. I say "mostly" because there're a few points where a null-test reveals *some* differences between the albums. A few brief snippets of audio exist after inverse-summing. This might imply that some very limited work was done either on the Globus master or the '95 master. Regardless, the two discs are about 98% identical (and, IMO, neither sounds amazing).
Japanese Paper-Sleeve Version (2001-2002)
Starting in 2001, Video Arts Music released a limited-edition series (2000 copies each) of Zappa CDs in paper sleeves - miniature LP sleeves. There was nothing special about this series other than the covers, which were very well done - inserts and "bonuses" were reproduced, the albums that originally had gatefold covers got little miniature gatefolds, and cover track lists were exactly as on the corresponding LPs, even in cases where the CD has bonus tracks or a different track order. Included in this series were some entries that never had "proper" LP issues, i.e. Läther. Additionally, some rarities--like the "green/gold" cover of Chunga's Revenge--were reproduced as special items in this run.
We need to stress that the sound quality of these discs matches the US Ryko issues, which they are clearly derived from. These are collectors items, not new remastered editions.
Late-2012-update: It appears as if the Japanese may be warming up the mini-LP ovens for a new batch based on the 2012 UMe remasters. We'll let you know if this happens.
Additional Informants
Patrick David Neve
Mikael Agardsson
Arno2000
Christof Ha▀linger (Globus LP 210075-1311 variants)